This chocolate chip cookie dough recipe has been hanging out in my recipe box for a while. Like a loooooong while. You may be thinking, "Katie, why did it take you so long to try this? It sounds amazing!" I've been avoiding it because *leans in close* it's actually a somewhat healthy alternative to the hard stuff.
What?! That's right kids. I said it. Healthy. It's made with garbanzo beans, nut butter, and a touch of sugar (I used less than what the recipe calls for and it was still great). Once you read the ingredients you'll get why it took so long for me to make it. Who makes a dessert out of the same stuff hummus comes from? But no joke, it was actually delicious. I'm big on texture and this recipe nails the creaminess of actual cookie dough. I think I may need a better food processor to perfect it, but my cheapy mini-processor did a fine job. It even passed the toddler taste test. When my husband asked what my son and I were eating and I told him it was cookie dough dip, I got a "that doesn't sound healthy." Little did he know it is (sneakily) a healthy dessert.**
Muah ha ha ha.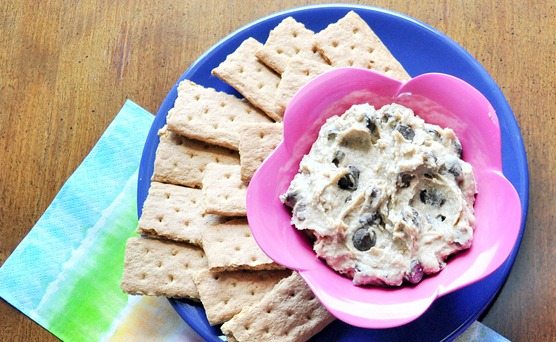 Photo Credit: Chocolate Covered Katie
Cookie Dough Dip via
Chocolate Covered Katie
Inspired by:
White Bean Blondies
.
1 1/2 cups chickpeas or white beans (1 can, drained) (250g)
1/8 tsp plus 1/16 tsp salt
tiny bit over 1/8 tsp baking soda
2 tsp pure vanilla extract
1/4 cup nut butter (You can get away with using only 3 tbsp. If you use peanut butter, it'll have a slight "pb cookie dough" taste, so if you don't want this, try the recipe in this link instead. Just don't bake it.)
up to 1/4 cup milk of choice, only if needed
Sweetener (see note below, for amount)
1/3 cup chocolate chips or Sugar-Free Chocolate Chips
2 to 3 tbsp oats (or flaxmeal) (You can omit for a thinner dip.)
Add all ingredients (except for chocolate chips) to a good food processor (not blender), and blend until very smooth. Then mix in the chocolate chips. (Some commenters have had success with a blender, but I did not. Try that at your own risk, and know the results will be better in a high-quality food processor such as a Cuisinart.)
See the following link for:
Sugar-Free Version
.
Sweetener Notes: I used 2/3 cup brown sugar when I first made this for the party. Liquid sweeteners (agave, maple, etc.) are fine as well, as is evaporated cane juice. You can easily get away with less sugar– some people will be perfectly fine with just 3 tbsp for the whole recipe! And if you don't want any sugar, be sure to check out the "no-sugar" version linked above. (You can also use stevia, if you like the taste of stevia-sweetened desserts. Try 2-3 packets of NuNaturals stevia, and add more sweetener if needed. I wouldn't recommend serving an all-stevia version to party guests, though.)
**And by healthy I mean not as bad as actual cookie dough.